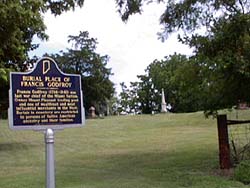 Back | Home | Next
Turn around and return to 300E, turn right N., turn right E. on Continue on 300E until you come to the first road to left
(follow the river) Mississinewa Road, follow road
Site 4 is on E. side of the river.
5. CHIEF FRANCIS GODFROY CEMETERY - This cemetery was named after the last war chief of the Miami Nation. A large cement slab is embedded in the ground near the entrance with this tribute: "War Chief Godfroy's Council Chambers here May 1812". Across the road stood Godfroy's trading post and Mt. Pleasant home. On the left bank of the river, at Osage Village, are buried among the Miami some 25 Indians killed by General Harrison when he sacked the village in 1812.
Trespassing on private property to view historic sites could subject you to civil and/ or criminal liability.